Minasan Konnichiwa!
We have started this y ear off with so many crafty hands on activities in the Junior Japanese room to celebrate Oshougatsu (New Year), Hinamatsuri (Girls Day), as well as the Toridoshi (year of the rooster) colouring in competition.
The winners from the colouring in competition are:
Reception- Lewis from Mrs. Walker's class.
Year 1– Zahra from Mrs. Carey and Miss Hinton's class,
Year 2– Kristal from Ms. Polley's class,
Year 3– Ashley from Mrs. Barbary's class, and
Year 4– Alexander from Mrs. Tsagouris and Mrs. Fleming's class.
Well done to everyone that entered, it was tricky picking the winners!
For Oshougatsu our year 2,3, and 3/4 classes made Ema which are wooden wishing plaques which are bought, written on, and hung at a shrine in Japan. We made some of our own Ema to hang outside of the classroom using balsa wood and some textas with the theme of toridoshi.
The receptions created some gorgeous chickens by using the fork painting method and they look so fluffy and gorgeous. Our year 1's practiced their cutting skills to cut out a mirrored rooster to then stick on some coloured card before writing toridoshi in hiragana. You can see some of them hanging in the room in the picture below.
To celebrate Hinamatsuri our receptions and year 1's made some cute little hinacards which folded to stand up on their own which they took home to share with their families, while the year 2, 3, and 3/4's worked in pairs to make a little hinadoll display which they are super proud of!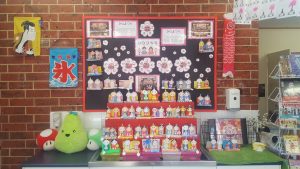 We have now started looking at the seasons and weather for our years 1-3/4's while our receptions are learning to count to 10!
Coghlan Sensei より。